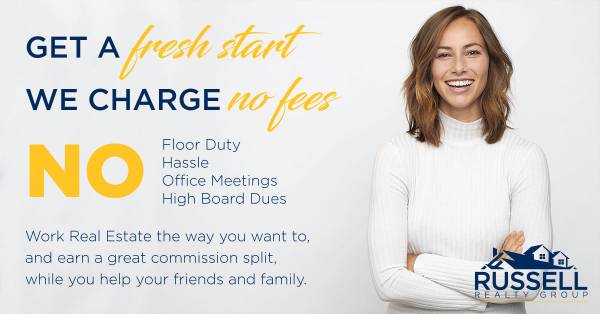 Buyer/Seller Agent - North Reading Office
The Russell Realty Group is looking for several agents to work side by side with our broker as a buyer's agent and listing agents with the leads and opportunities we receive on a daily basis.
We attract leads from every possible source and would like one agent to work side by side with our broker on these leads. Evan is offering his 15 plus years of lead generation experience to you with scripts, dialogs and lead closing methods that have help close deals over the years. We will share that same method with you in our expanding business and lead flow.
The perfect agent...
Must be willing to work in a very fast and ever changing environment - we stay ahead of the curve with lead generation.
Must be a full time or very close to a full time agent
Must be willing to work a given database of new and seasoned leads
Must be accountable to lead progress within our database
The Russell Realty Group Brand is very important and requires
A focus on growth
Be tech savvy
A team player
With the ability to be coached
Willingness to invest in yourself
Leads and a custom marketing plan will be given to the right agent. We will supply both seller and buyer leads on a daily basis to be tracked, followed up on and noted in our database. We would welcome a new agent into this role as well as a seasoned agent that would like to relaunch their career.
This is a position for a person with an active real estate salesperson license and is a commission based program.
Please email resume to [email protected]